Filter Reviews
Fit
Weather
Look
Tongue
Walking
Support
5 star rating

4 star rating

3 star rating

2 star rating

1 star rating
Happy Feet!
Review by Brenda on 5 Jun 2020
review stating Happy Feet!
I was searching for comfortable shoes that could withstand a warehouse environment. My feet were always aching by the end of my shift and I couldn't stand it any longer. My wife suggested nursing shoes and I was against it until she showed me the different types of shoes available. I instantly liked the Peggy Black Suede. Happy I purchased and my feet are happy too.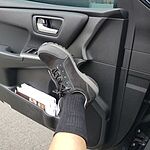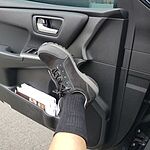 I have worn Dansko Clogs
Review by Julie on 25 May 2020
review stating I have worn Dansko Clogs
I have worn Dansko Clogs for the past 30 years, and have very happy feet. I also invested in a pair of Dansko hiking boots last fall and found them perfect for my daily hikes with my dogs. Now that the weather is getting warmer, I was hoping to find the same comfort in a hiking shoe. Once again, Dansko is spot on with the Peggy Suede hiking shoe. They provide total support for my feet and calves, are lightweight, good looking and comfortable right out of the box- no break in period needed. I highly recommended any Dansko product. Always quality craftsmanship, long lasting and nicely designed.
Great shoe!
Review by Andrea S. on 8 May 2020
review stating Great shoe!
I have purchased Dansko tennis shoes in the past and thought that the Peggy shoe seemed similar. My previous pair lasted me a long time so I felt the price would be worth it. So far, I love these shoes. They fit very well and I feel well supported in them. They look very professional and are definitely quality made. I should have bought them sooner!
AMAZING!!!!!!
Review by Sarah on 30 Mar 2020
review stating AMAZING!!!!!!
Been obsessed with my Paisley's for years but wanted a more summer shoe. These are exactly what I was looking for!! Sturdy, supportive, and are well suited for summer :)
Excellent show - 2nd pair
Review by Stephanie on 23 Mar 2020
review stating Excellent show - 2nd pair
This is my second pair of these shoes. Liked them so much I wanted a different color. I purchased the first pair to navigate messy weather and for the support while on walks, particularly on trails. They are super comfortable! I started wearing them on my walk back and forth to the train too!